We're well under way with the third entry in TSA's Plus Points Challenge, this time featuring Dead Nation: Apocalypse Edition. Can X1BALBAABLAB1X  reclaim the top spot, or will theberzerka win for a second time and depose our current leader, Lieutenant Fatman? Then again, with just 14 points, he's well within reach of anyone who can post a good score.
Now, it's important to remember that when we launched this competition, eager to get under way, Dead Nation: Apocalypse Edition had a few issues with it, which may have curtailed the number of entries we've seen so far. However, these should now be fixed with patch 1.02, making your time with the game a more pleasant experience, if you can call slaughtering hordes of zombies pleasant.
In other words, if bugs and errors put you off spending time with the game before, now's the time to take another look and get a few rounds in before submitting your best score. Especially since every entry will earn points and a chance for a prize drawn at random.
The challenge is simple, gain the highest possible score on the first level (The Beginning) of Dead Nation. You don't need to have entered any of the previous rounds to enter this one, it's open to anyone, with the full rules below:
Complete the first mission of Dead Nation on PS4 in single player. The mission is called "The Beginning".
On the mission completion screen, press the share button on your DualShock 4.
Tweet the image of the mission completion screen to @thesixthaxis, making sure you include yourTSA username.
Top score will get 10 leaderboard points, 2nd 9 points, 3rd 8 points and so on. Everybody who enters will receive 1 leaderboard point.
There is no restriction on the difficulty level you choose to play with. It may be best to unlock the highest difficulty levels first, then use that to go for the highest score.
There are no restrictions on the number of times a person can enter this competition, though please don't spam us with entries! Each person's best score will count.
Only PS4 entries will be accepted, as we cannot verify screenshots from other platforms.
The competition will close at 6PM BST on Sunday the 30th of March. (Don't forget, the clocks go forward this weekend)
Your screenshot should look a little something like this: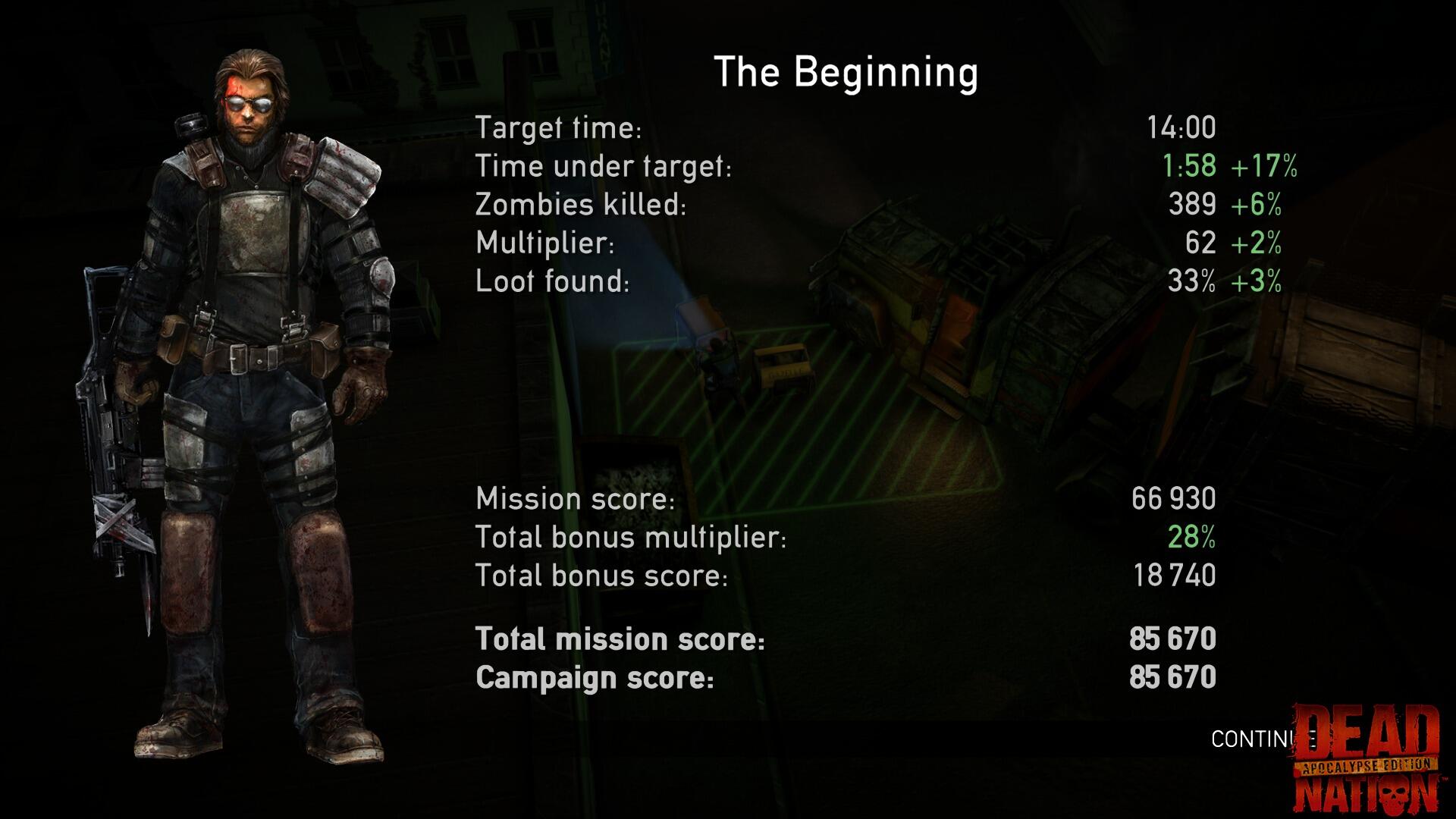 Every person who enters this month's contest will be entered into a random prize draw and one lucky TSA member will win a £10 (or $10) PSN voucher thanks to the gods of random.org. And there's also the chance to win a year's PS+ subscription for the first person to fifty points on the leaderboard.
Be warned, at the time of writing the PS4 Dead Nation leaderboards are playing up and will not display any data at all. This may make it difficult for you to check your attempts against your friends, but you can still enter by sharing the level complete screen.
Bonus points contest – speed run
There will be 5 leaderboard points available for the TSA member who submits the fastest time for completion of the first level. You can enter both this and the main high score contest, though nobody who finishes in the top 10 for the main contest will be considered for the fastest time contest. You should enter this as in the same way as the high score challenge.
So, get to it. There's a few days yet to perfect your run, whether going for the highest score or for the fastest time, or just hoping you get your name drawn out of a hat!
April
March
February
June
January
September