Death Stranding will landing on PlayStation 4 on November 8th with reviews for the game going live a week earlier on November 1st so you do not have long to wait until you find out what the game is like. While you wait why not check out the official Death Stranding Spotify playlist, curated by Kojima Productions, that includes tracks from game and other related songs.
Artists include Low Roar, Alan Walker, Au/Ra, MISSIO, Khalid, and Labrinth.
– ARTICLE CONTINUES BELOW –
Meanwhile Rolling Stone report that Death Stranding is a test of new collaborations between PlayStation and Sony Music, and if it goes well we may see more of this sort of thing on the PlayStation 5.
Sony Music Group CEO & Chairman, Rob Stringer, told an audience at Goldman Sachs' Communacopia event in New York last month that Death Stranding will "innovate for the first time on how music is embedded in a game," and that SMG will be working closely with PlayStation to promote the Timefall album. It's a project that Sony insiders tell me is being seen as an important benchmark of increased creative collaboration between PlayStation and Sony Music Group, ahead of the launch of the PlayStation 5 console in 2020.
The Death Stranding experience will be opening at Stables Market in Camden, London, and you can visit  on November 2nd, 3rd, 8th, 9th & 10th. Kojima will be there in person on Saturday November 2nd, 11.30am to 1.30pm. You can also pick up exclusive merchandise and get an "insight in to the world of Death Stranding".
There does not appear to be a way to book a place in advance so turning up early might be a good idea.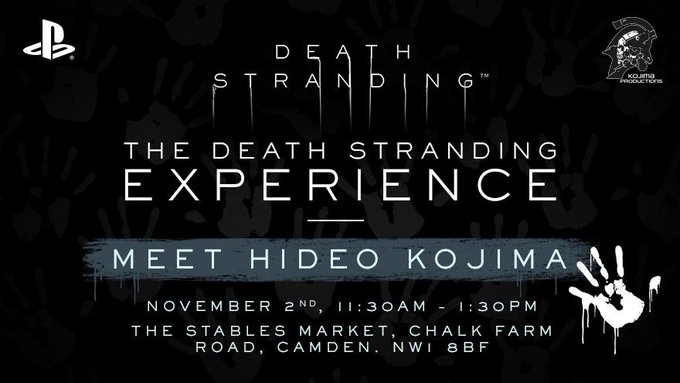 Check back here at 7.01am on November 1st for my review of Death Stranding and check out our Death Stranding Hub for everything you need to know about the game!
Source: RollingStone