EA have finally confirmed that Need for Speed: Hot Pursuit is getting a remaster and it will be available on PS4, Xbox One, Switch, and PC on November 6th.
The game has enhanced visuals,  the SCPD Rebel Racer Pack, Super Sports Pack, Armed & Dangerous Pack, Lamborghini Untamed Pack, and Porsche Unleashed Pack, all of which add an extra six hours of gameplay and thirty challenges, and will also include cross-play so you can play with your chums no matter what platform they are on.
– ARTICLE CONTINUES BELOW –
Here's more on those remastered graphics:
The Nintendo Switch version runs at 1080p/30 FPS in docked mode (720p/30 FPS undocked) and includes higher-resolution models, more objects and props, longer draw distance, higher resolution shadows, and improved videos.

Depending on your specifications, 4K/60 FPS is supported on PC, and players can choose between 4K/30 FPS or 1080p/60 FPS on PlayStation 4 Pro and Xbox One X. Base versions of PlayStation 4 and Xbox One will run the game at 1080p/30 FPS. In addition to the listed improvements for the Nintendo Switch version, PlayStation 4, Xbox One, and PC versions are also updated with upressed UI, higher resolution reflections, boosted textures, more particles, and improved AA/SSAO.
"We've added brand new achievements, car colors, wraps, reduced hard stops, an updated photo mode and gallery, and multiple quality of life updates, too, to create an even more well-rounded gameplay experience this time around," adds EA.
Here's the list of cars you will be able to drive:
Alfa Romeo 8C Competizione Spider
Alfa Romeo 8C Competizione
Aston Martin DBS Volante
Aston Martin DBS
Aston Martin V12 Vantage
Aston Martin One-77
Audi TT RS
Audi R8 Spyder 5.2 FSI quattro
Audi R8 Coupe 5.2 FSI quattro
Bentley Continental Supersports Coupe
Bentley Continental Supersports Convertible
BMW Z4 sDrive35is
BMW M3 E92
BMW M6 Convertible
Bugatti Veyron 16.4
Bugatti Veyron 16.4 Super Sport
Bugatti Veyron 16.4 Grand Sport
Chevrolet Camaro SS
Chevrolet Corvette Grand Sport
Chevrolet Corvette ZR1
Chevrolet Corvette Z06
Dodge Charger SRT8
Dodge Challenger SRT8
Dodge Viper SRT10 ACR
Dodge Viper SRT10
Dodge Viper SRT10 Final Edition
Ford Crown Victoria Interceptor
Ford GT
Ford GT500 Super Snake
Ford GT500 Shelby
Ford Police Interceptor Concept
Gumpert Apollo S
Jaguar XKR
Koenigsegg CCX
Koenigsegg CCXR Edition
Koenigsegg Agera
Lamborghini Countach 5000 QV
Lamborghini Diablo SV
Lamborghini Gallardo LP 550-2 Valentino Balboni
Lamborghini Gallardo Spyder LP 560-4
Lamborghini Gallardo LP 560-4
Lamborghini Gallardo LP 570-4 Superleggera
Lamborghini Sesto Elemento
Lamborghini Murciélago LP 640
Lamborghini Murciélago LP 650-4 Roadster
Lamborghini Murciélago LP 670-4 SuperVeloce
Lamborghini Reventón Roadster
Lamborghini Reventón
Maserati GranCabrio
Maserati GranTurismo S
Maserati Quattroporte Sport GT S
Mazda RX-8
McLaren MP4-12C
McLaren F1
Mercedes SL 65 AMG Black Series
Mercedes SLS AMG
Mitsubishi Lancer Evolution X
Nissan 370Z Roadster
Nissan 370Z
Nissan GT-R SpecV
Pagani Zonda Cinque (NFS Edition)
Pagani Zonda Cinque Roadster
Pagani Zonda Cinque Roadster (NFS Edition)
Pagani Zonda Cinque
Porsche 911 GT2 RS
Porsche 911 GT3 RS
Porsche 911 Speedster
Porsche 911 Targa 4S
Porsche 911 Turbo S Cabriolet
Porsche 911 Turbo 1982
Porsche 918 Spyder
Porsche Boxster Spyder
Porsche Carrera GT
Porsche Cayman S
Porsche Panamera Turbo
Porsche 959
Subaru Impreza WRX STI
The game has leaked numerous times, most recently the Korean Games Rating and Administration Committee listed the title and  back in August Amazon listed and just as quickly deleted a listing for Need for Speed: Hot Pursuit Remastered for Xbox One.
The game was also been listed by  Australian retailer Mighty Ape. Back in June Venturebeat reported that, following the success of Burnout Paradise Remastered, Need For Speed: Hot Pursuit was coming to Switch and other consoles.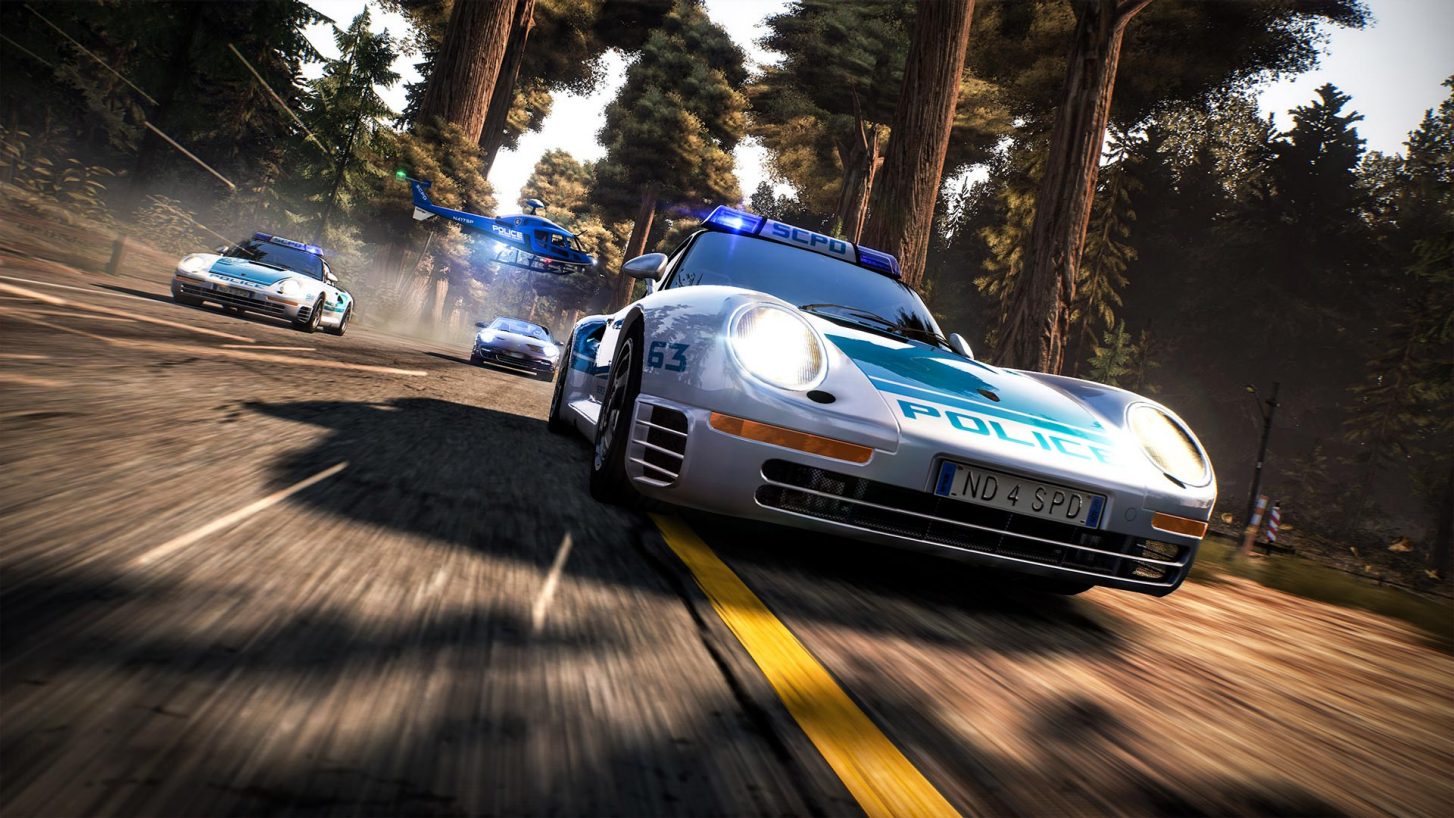 Hot Pursuit launched way back in 2010 on PlayStation 3, Xbox 360 and Wii and scored 8/10 in our review. 
Hot Pursuit is a refreshing reboot for a series that's become tired and disjointed, with Criterion's grip tightly controlling the direction of the game as much as the publisher.  As a result, this latest Need for Speed is the best it's been for years, and although it's naturally not going to be a game for everyone, anyone looking for a solid racing game this Christmas with a significant emphasis on online competition should find this is well worth investigating, especially if you liked the demo.
The Need for Speed: Hot Pursuit Remaster isn't the only EA game that has been leaked multiple times but remains unconfirmed by the publisher. The Mass Effect Trilogy Remaster has also popped up on various retailers, perhaps the Korean Games Rating and Administration Committee could confirm that one as well?
Source: