Back in August Ian Frazier, Creative Director on Star Wars: Squadrons, said the following.
Never say never, so to speak, but as far as our philosophy goes we're not trying to treat the game as a live service. We don't want to say, 'It's almost done!' and then dribble out more of it over time, which to be honest is how most games work these days. So we've tried to treat it in kind of an old-school approach saying, 'You've paid the $40, this is the game and it's entirely self-contained. We're not planning to add more content, this is the game, and we hope you understand the value proposition.
Well never seems to have come around rather quickly as the game is getting some free DLC to tie in with the launch of The Mandalorian Season 2.
– ARTICLE CONTINUES BELOW –
"We've worked with Lucasfilm to bring a few Mando-themed goodies to Star Wars: Squadrons. The Mandalorian is something that has often been a source of inspiration for us due to its close proximity to our game's timeline, so it only felt natural to pay homage to it," said EA, "But of course, we know there's a particular new cosmetic most of you are hoping for…"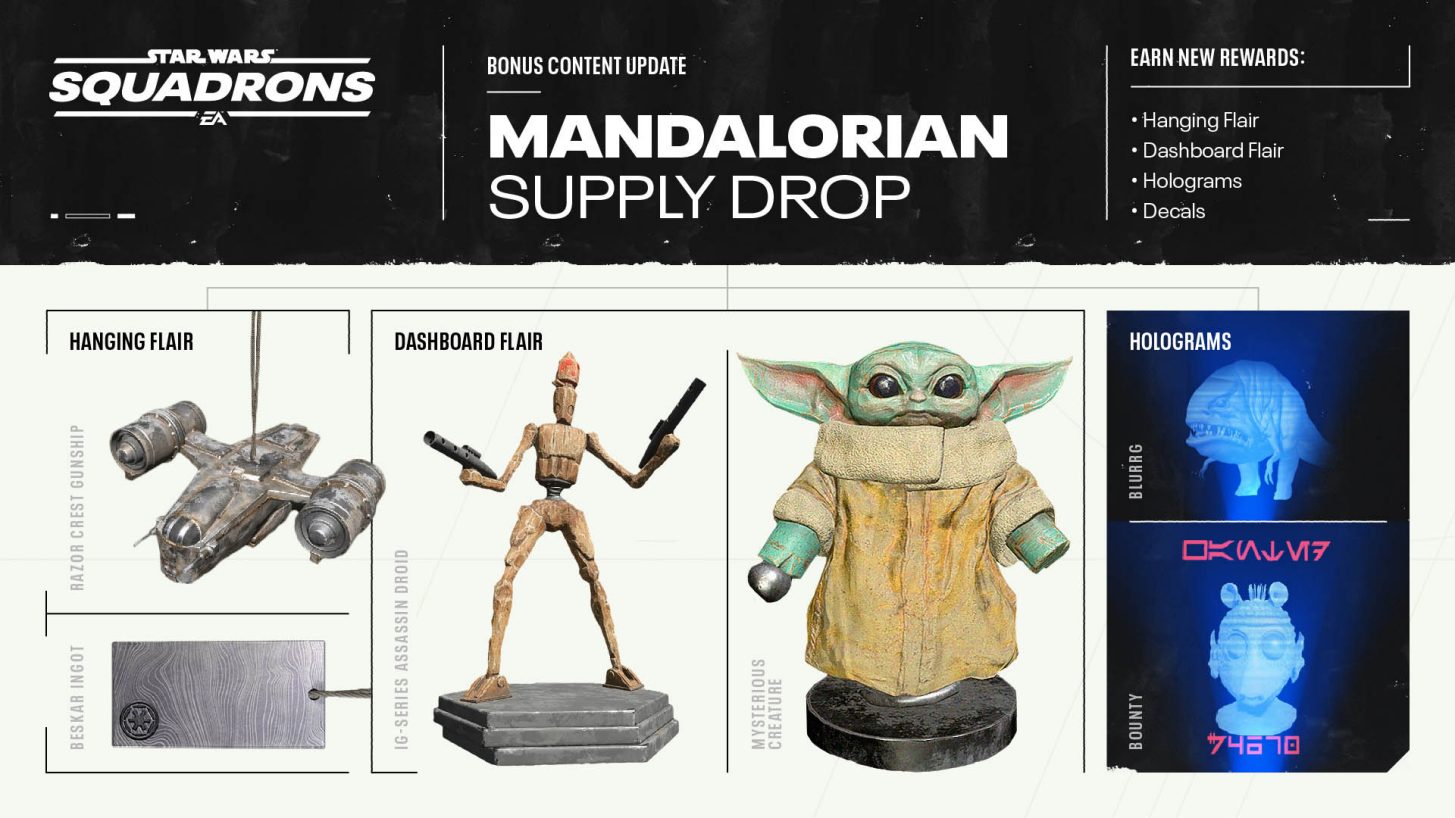 "Paying homage to the iconic character, we've made sure to create this wonderful new dashboard decoration based on a "Mysterious Creature." This figure can adorn any dashboard across the New Republic's starfighters, meaning the fan-favorite Tuggtar bobblehead now has a rival! Both factions will receive one hologram, one decal, one dashboard flair, and one hanging flair, meaning eight new cosmetics in total for you to unlock."
The new cosmetics will be available on October 28th when a new patch for the game will be available.
This is the second piece of The Mandalorian Season 2 in less than 24 hours, yesterday a Mandalorian Xbox Controller & Xbox Pro Charging Stand Set was revealed.
Source: EA