Capcom have been sharing new details for the Resident Evil franchise in a showcase this evening which began with a new trailer for Resident Evil Village, a.k.a. Resident Evil 8.
A spooky mansion is shown with a voiceover telling us "they're coming again" as we find out Ethan winters has escaped and is hiding somewhere in a castle. This information is relayed to us by a woman talking on a telephone to someone called 'Mother Miranda', they are discussing a ceremony of sorts.
– ARTICLE CONTINUES BELOW –
The game is also coming to current generation consoles and both PS4 and XB1 owners will get a free upgrade to the next-gen versions if you buy one of the new consoles. There will also be an exclusive PlayStation 5 demo which is out today and another demo later on which will be on other formats.
They game will be released on May 7th 2021 and comes in a number of special editions including one with a statue, another with a copy of Resident Evil 7, and anyone who makes a digital pre-order will get a mini digital soundtrack.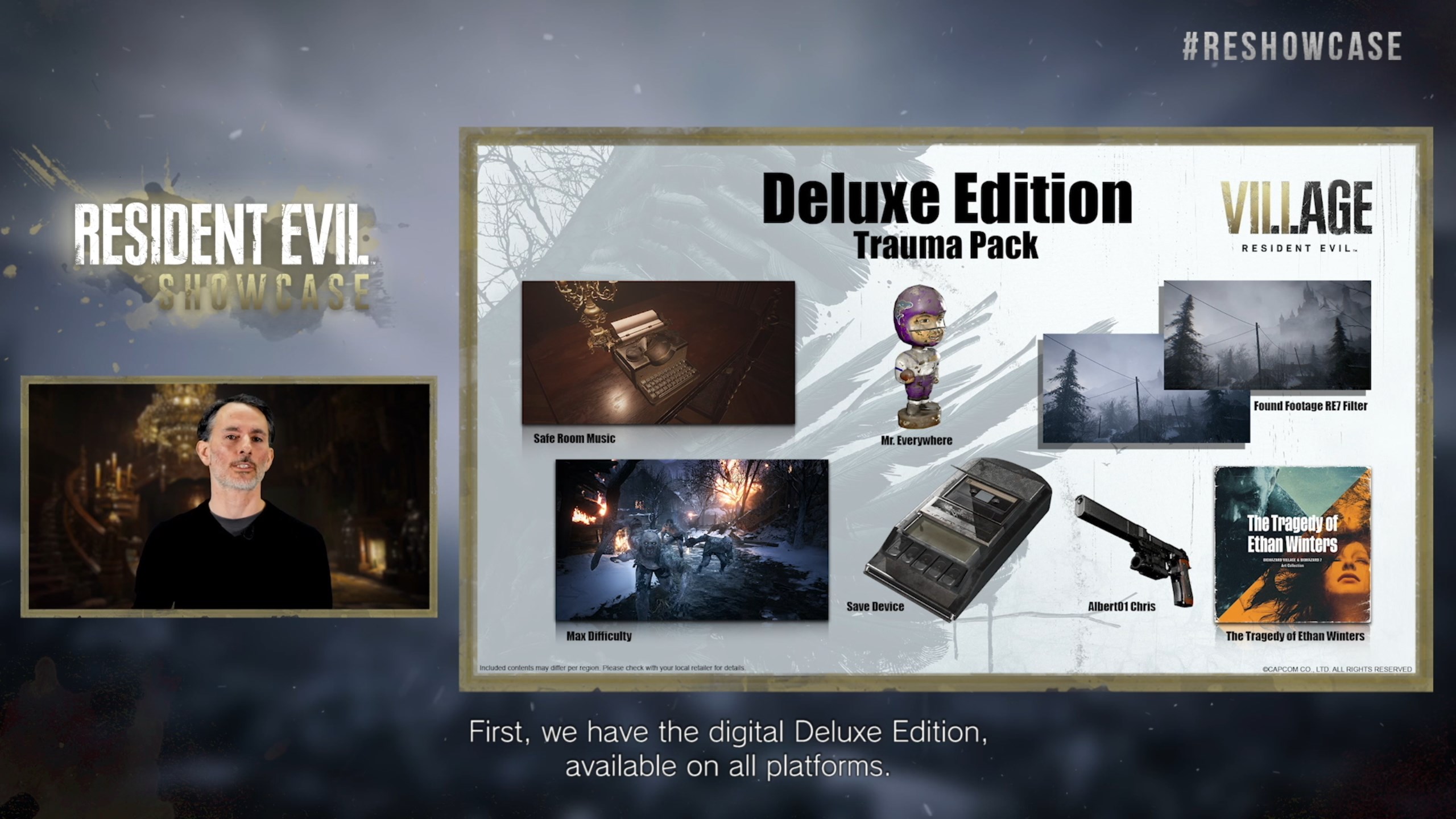 During the gameplay trailer we also met the same mysterious woman who was talking on the phone, plus three zombified ladies. We also get to see some combat with Ethan creeping around a dark dungeon. "It's not all about shooting, you will need to guard as well" say Capcom. Each enemy will have a different attack pattern, and yes, there are red barrels. First aid and ammo can be crafted, and there are a number of weapons to be found.
The trailer also brings back the merchant, who this time is known as The Duke.
Netflix recently  announced a new TV series based on Capcom's Resident Evil franchise. The series is now set in New Raccoon City, and will follow 'the Wesker kids'. I'm a bit rusty on my Resident Evil lore but as far as I know the only child Albert Wesker has is a son named Jake Muller who was introduced in Resident Evil 6.
The new story follows fourteen year old sisters Jade and Billie Wesker who move to New Raccoon City with their (so far unnamed) father. "The more time they spend there, the more they come to realise the town is more than it seems and their father may be concealing a dark secret" add Netflix.
However, during the showcase also mentioned Resident Evil show that is coming to Netflix, Resident Evil: Infinite Darkness. This is a CGI animated film which focuses on Claire and Leon a few years after Resident Evil 4, and it will be out this year.