Those ever so sneaky "sources" have been talking to UploadVR and have revealed more details about the PlayStation VR2 unit. Obviously these are unsubstantiated rumours but UploadVR are a trustworthy site so we're hoping these leaks are correct.
Multiple sources have confirmed the resolution of the new device at 4000×2040 pixels (2000×2040 per eye), which is better than Oculus Quest 2 and slightly lower than the HP Reverb G2, which has the best resolution on the market today.
There will be a lens separation adjustment dial and "gaze tracking capable of foveated rendering". I had to look that one up, and Wikipedia tells that "Foveated rendering is a rendering technique which uses an eye tracker integrated with a virtual reality headset to reduce the rendering workload by greatly reducing the image quality in the peripheral vision." Snazzy!
One of the surprises is that the VR unit will include a motor for haptic feedback, that could be used for all sorts of features, imagine being able to feel a headshot in a VR shooter. It is said the device will use a USB Type-C connect, one of which is located on the of all PlayStation 5 consoles. The sources also confirm the system will use onboard cameras to track movement so you may not need a PlayStation camera to use the device.
In March Hideaki Nishino, Senior Vice President, Platform Planning & Management revealed the next generation of controllers for PlayStation VR 2.The controller is now 'orb' shaped so you hold the controllers in a natural way rather than having to point a stick at things. "We applied learnings from testing users with a range of hand sizes, as well as the decades of insights from controllers across all PlayStation platforms. The result is an iconic design that will change how VR games are played," said Nishino.
Taking their cue from the PlayStation 5 DualSense controller the new VR controller includes adaptive triggers and haptic feedback, and will allow for finger tracking. Each controller also has a an analogue stick and the various PlayStation buttons – square, cross, L1 etc – are spread across each controller. Here's more from Sony.
 Adaptive triggers: Each VR controller (Left and Right) includes an adaptive trigger button that adds palpable tension when pressed, similar to what's found in the DualSense controller. If you've played a PS5 game, you'll be familiar with the tension in the L2 or R2 buttons when you press them, such as when you're drawing your bow to fire an arrow. When you take that kind of mechanic and apply it to VR, the experience is amplified to the next level.
Haptic feedback: The new controller will have haptic feedback optimized for its form factor, making every sensation in the game world more impactful, textured and nuanced. When you're traversing through rocky desert or trading blows in melee combat, you'll feel the difference, magnifying the extraordinary visual and audio experience that's so central to VR.
Finger touch detection: The controller can detect your fingers without any pressing in the areas where you place your thumb, index, or middle fingers. This enables you to make more natural gestures with your hands during gameplay.
Tracking: The VR controller is tracked by the new VR headset through a tracking ring across the bottom of the controller.
Action buttons / analog sticks: The Left controller contains one analog stick, the triangle and square buttons, a "grip" button (L1), trigger button (L2) and Create button. The Right controller contains one analog stick, the cross and circle buttons, a "grip" button (R1),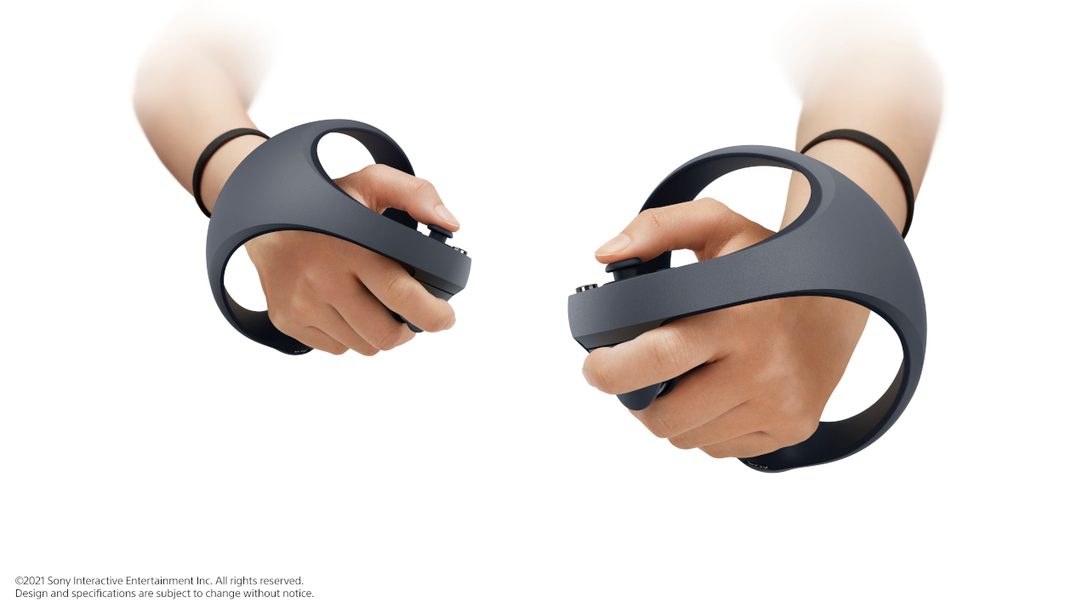 Source: UploadVR