It appears that even monsters can't escape the effects of COVID-19 as Capcom's next update to Monster Hunter World: Iceborne has been delayed. Voice over work in various languages has also had to be cut back due to production difficulties and will be simplified for the release. Here is the statement from Capcom.
Attention Hunters! Unfortunately, coronavirus (COVID-19) related impacts on production have made it necessary to postpone the release of the fourth free title update for Monster Hunter World: Iceborne. Voice over production for the Italian, Spanish and French language versions have also been affected, and will be replaced with simplified recordings.

We would like to apologize to all of our fans eagerly awaiting Alatreon's arrival in the New World, and will provide updates once we have new information to share.
While players wait for the new update most of the existing Event Quests will remain active. The roadmap for the game has also been updated to reflect the delay, unfortunately Title Update 4 does not have a new release date and is simply "TBD"
– ARTICLE CONTINUES BELOW –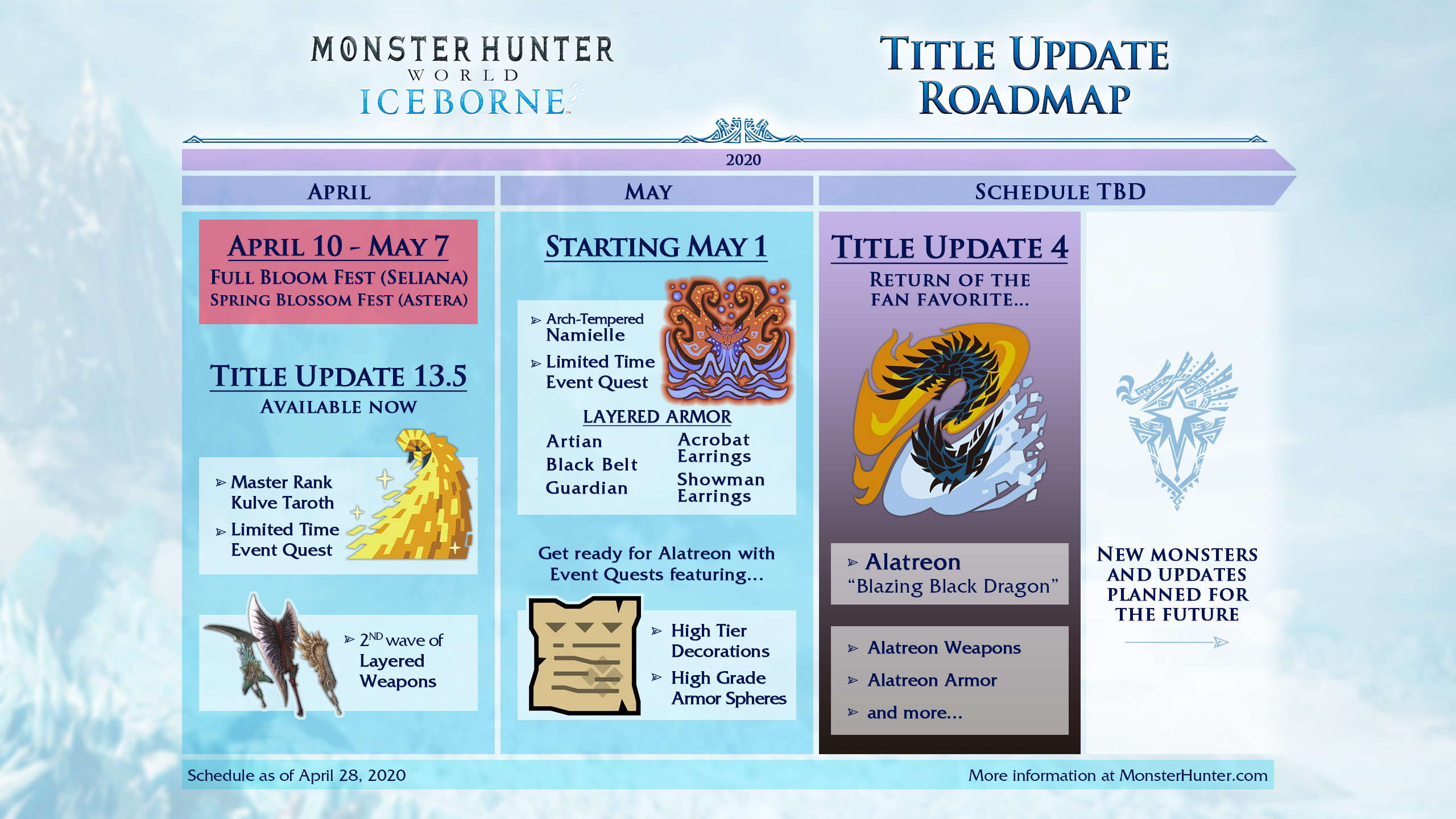 Since the inception of the Monster Hunter series worldwide sales have reached 61 million units. Monster Hunter: World is where Capcom finally struck gold with the game shipping over 15 million units since January 2018, and according to Capcom it is the first game in the company's history to hit that number. The expansion Monster Hunter World: Iceborne also pulled in impressive numbers with 4.1 million units shipped up until January and has no doubt sold many more since then.
Dom reviewed Monster Hunter World: Iceborne's PC release and wrote "PC players have been rewarded for their patience; Monster Hunter World Iceborne on PC is the definitive version of one of the best games of the last decade."
You can read the full Monster Hunter World: Iceborne PC review here.
Source: Capcom Unity