The Xbox Series X and the Series S set to launch on the 10th November 2020. The Series X will retail for £449 or $499, while the Series S weighs in at £249 or $299. There will also be a 24-month subscription offer bundling a console, Xbox Game Pass Ultimate and EA Play together starting from an exceedingly tempting $24.99 / £20.99 per month for Series S, and $34.99 / £28.99 per month for Series X.
But here's the important bit – the Xbox Series X box! Woo!
– ARTICLE CONTINUES BELOW –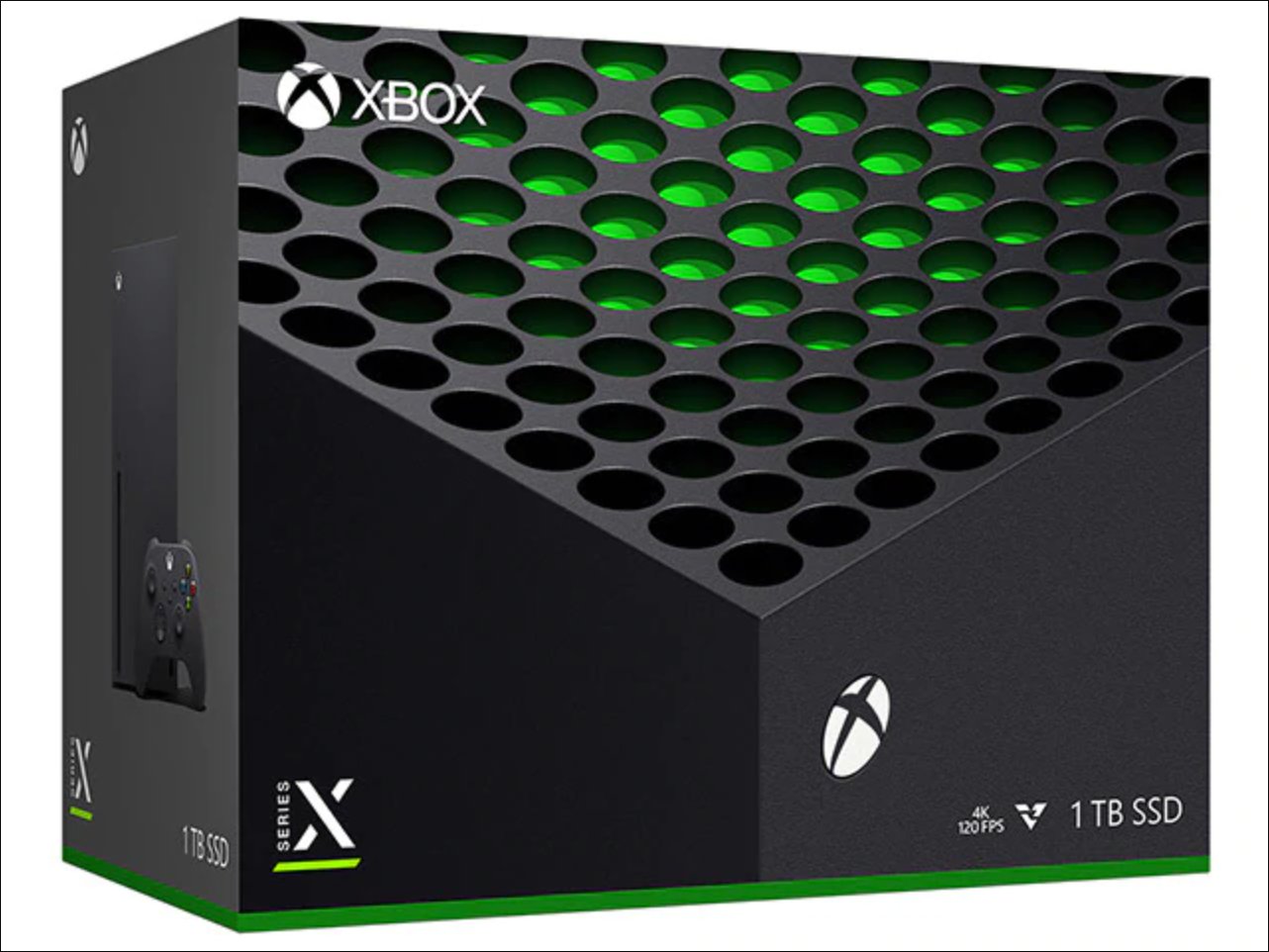 It looks rather monolithic doesn't it? Not exactly a friendly beast, I'm sure I've seen something similar in an alien invasion movie.
In case you missed it, here are the specs for the two new consoles.
| | | |
| --- | --- | --- |
| | Xbox Series X | Xbox Series S |
| CPU | 8-Core Zen 2 @ 3.8Ghz / 3.6Ghz w/ SMT | 8–Core Zen 2 @ 3.6Ghz / 3.4Ghz w/ SMT |
| GPU | RDNA 2 GPU – 52 CUs @ 1.825 GHz | RDNA 2 – 20 CUs @ 1.565 GHz |
| GPU Power | 12.15 TFLOPS | 4 TFLOPS |
| Memory | 16 GB GDDR6 | 10 GB GDDR6 |
| Memory Bandwidth | 10GB @ 560 GB/s, 6GB @ 336 GB/s | 8GB @ 224 GB/s, 2GB @ 56 GB/s |
| Performance Target | 4K @ 60 FPS, Up to 120 FPS | 1440p @ 60 FPS, Up to 120 FPS |
| Internal Storage | 1 TB PCIe Gen 4 NVME SSD | 512 GB PCIe Gen 4 NVME SSD |
| I/O Throughput | 2.4 GB/s (Raw), 4.8 GB/s (Compressed) | 2.4 GB/s (Raw), 4.8 GB/s (Compressed) |
| Expandable Storage | 1 TB NVME Expansion Card | 1 TB NVME Expansion Card |
| Optical Drive | 4K UHD Blu-Ray Drive | Digital Only |
| Video Output | HDMI 2.1 – Up to 4K at 120Hz, 8K, VRR | HDMI 2.1 – Up to 4K at 120Hz, 8K, VRR |
| Backward Compatibility | Xbox One, Xbox 360, Xbox | Xbox One, Xbox 360, Xbox |
| Availability | 10th November 2020 | 10th November 2020 |
| Price | $499 / £449 / €499 | $299 / £249 / €299 |
Writing on Xbox.com, Jason Ronald, Director of Program Management for Xbox Series X said, "Backwards compatible games run natively on the Xbox Series X hardware, running with the full power of the CPU, GPU and the SSD. No boost mode, no downclocking, the full power of the Xbox Series X for each and every backward compatible game."
Source: Twitter