Ubisoft has confirmed that the first free episodic content for The Division 2 will be coming in a couple of weeks, July 23rd for season pass holders and July 30th for everyone else to be precise. The episode is called D.C. Outskirts: Expeditions and it will be available on PS4, Xbox One and PC. As you can guess from the title of the episode Agents will be travelling beyond the city limits of Washington D.C., but it may be worth finishing the main storyline first as the events of this episode take place after fighting The Division 2's final boss. This is all part of the year 1 free DLC plan that Ubisoft has laid out for the game.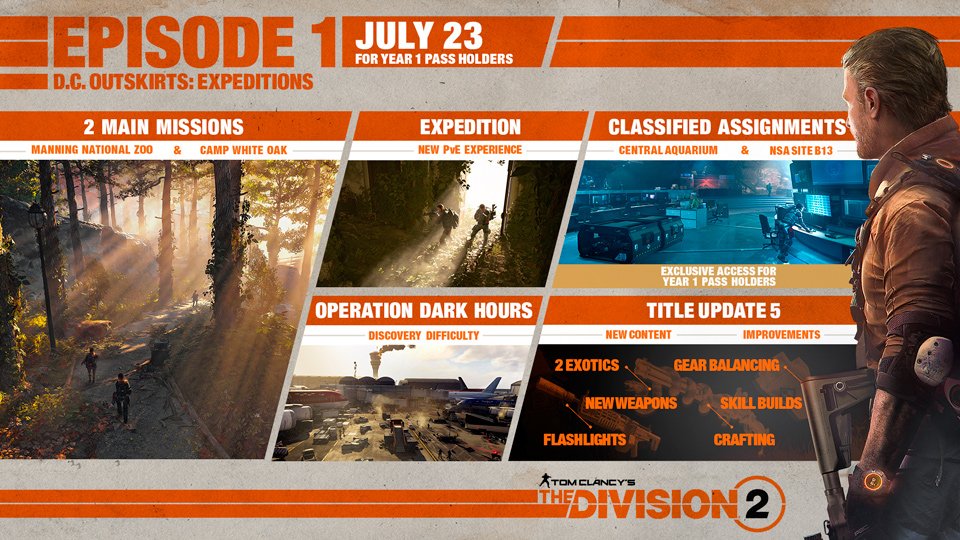 – ARTICLE CONTINUES BELOW –
As you can see from the image above Expeditions will feature two new main missions which take place at Manning National Zoo and Camp White Oak. Expedition will provide a new PvE scenario to take on. Year 1 pass holders will also get access to NSA Site B13 and the Central Aquarium. New content like weapons, two exotics, and flashlights will be added while there will be balancing added too. This update will be rolled out on the 23rd for everyone.
Speaking of updates tomorrow, July 11th, The Division 2 will be offline for a couple of hours due to maintenance. The time this will be happening is 09:30 AM CEST / 03:30 AM EDT / 12:30 AM PDT.
Agents, maintenance incoming tomorrow, July 11th at 09:30 AM CEST / 03:30 AM EDT / 12:30 AM PDT, approximately 2 hours.

Details: >> https://t.co/ZnXncaPmxV pic.twitter.com/9q2YcDVKEO

— The Division 2 (@TheDivisionGame) July 10, 2019
Ubisoft handily provided a link regarding details about the maintenance and what it will entail. You can read all of the information below that has been shared.
Greetings Agents,

The servers will shut down for maintenance on Thursday, July 11th at 09:30 AM CEST / 03:30 AM EDT / 12:30 AM PDT.
Estimated downtime is approximately 2 hours.

Please follow this thread for any updates as the maintenance progresses.

Thank you,
The Division 2 Team
All cleared up then.
Source: Press Release