The all-new PlayStation Plus has launched around the world, with multiple tiers offering various game libraries and privileges to different subscribers, but one thing hasn't changed: every PS Plus subscriber, from Essential up through to Premium, gets free monthly games to keep. The July 2022 PS Plus have have now been confirmed having leaked earlier this week.
What will the PS Plus July 2022 games be?
The July 2022 PS Plus Essential games are now confirmed as:
– ARTICLE CONTINUES BELOW –
Crash Bandicoot 4: It's About Time (PS5 | PS4)
The Dark Pictures Anthology: Man of Medan (PS4)
Arcadegeddon (PS5 | PS4)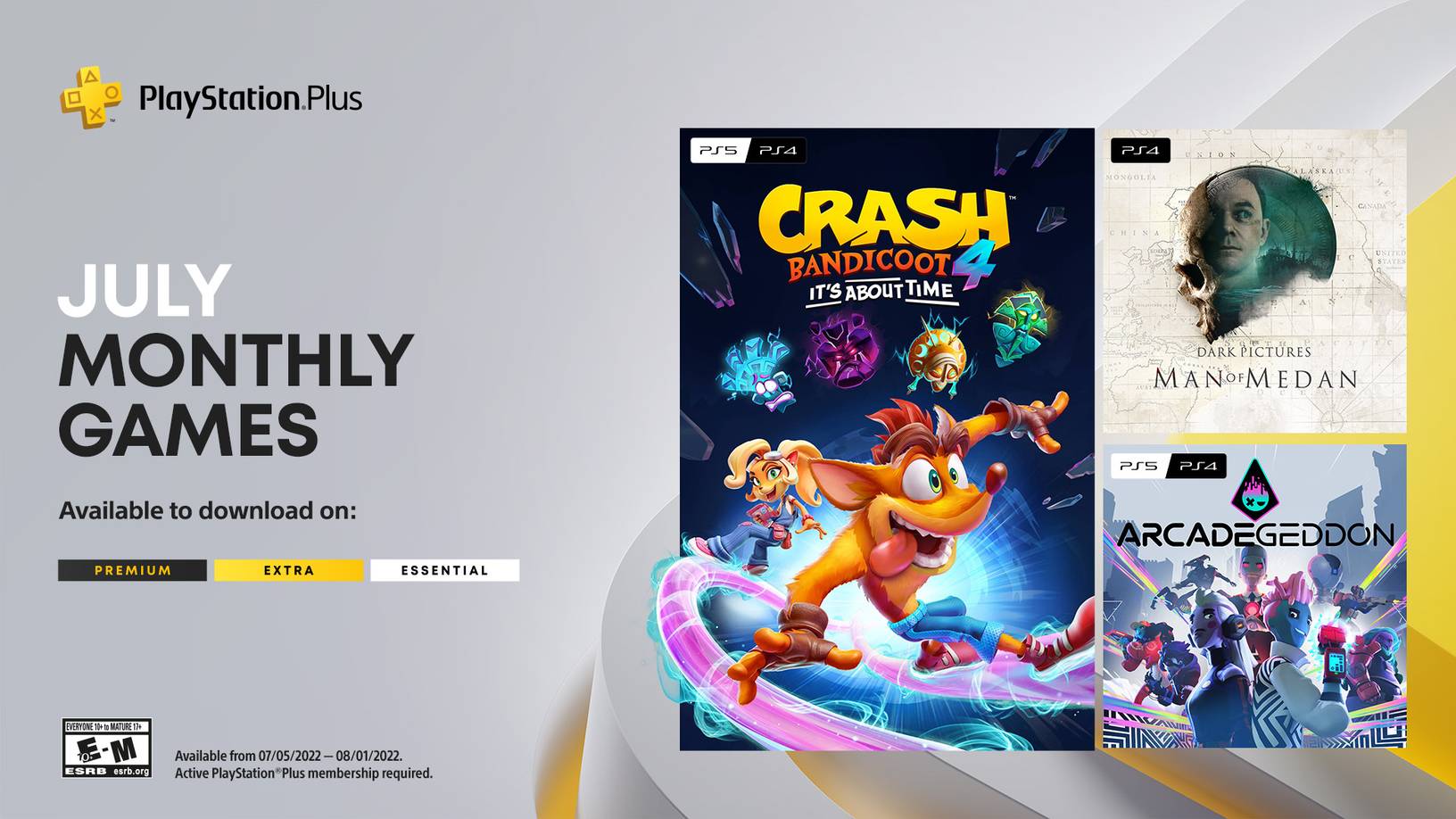 Crash Bandicoot 4 was the last game from Toys for Bob before they and every other Activision studio were marched off to the Call of Duty content mines. Following on from the popular N-Sane Trilogy which remastered the three original PlayStation games, Crash Bandicoot 4 took the trademark game formula and polished it to a fine sheen for a new generation.
In our Crash 4 review, Steve called it "the definitive Crash game", saying that "Toys For Bob have taken all the series' trademarks, refined them into a challenging and polished experience and given us tons of levels to play and secrets to hunt for."
With Supermassive's latest narrative horror game The Quarry out now via 2K, Bandai Namco are cheekily throwing the studio's first The Dark Pictures Anthology title onto PS Plus. Man of Medan sends you out onto the high seas with a haunted ship looking to off your hapless crew. In our Man of Medan review, Tuffcub said, "It's an excellent night or two's entertainment with a bunch of mates in a dark room and plenty of beer, though playing by yourself or online with a chum is an altogether more muted experience. This is a fair start to The Dark Pictures Anthology."
Lastly we have Arcadegeddon, a vibrant co-op shooter from Illfonic, who are best known for their asymmetrical multiplayer games Predator: Hunting Grounds and Friday the 13th: The Game. This time around they're embracing vibrant colours in a 90s punk rock aesthetic, as well as a greater focus on cooperative play for up to 4 players. This is a launch day release into PS Plus, aiming to grab as big a player base as possible.
Can I still download the June 2022 PlayStation Plus Games?
Absolutely! The PlayStation Plus games for June included the excellent God of War revival, the anime action of Naruto to Baruto: Shinobi Strikers, and family friendly Nickelodeon All-Star Brawl. You have right up until the July selection of games goes live to grab them.
What's with the whole PlayStation Plus relaunch?
The PlayStation Plus relaunch has now rolled out around the world, transforming the PS Plus we once knew into a three tiered subscription service that bundles in and expands what was once PlayStation Now. The classic PS Plus is now called PS Plus Essential, giving access to online multiplayer gaming, cloud save backups, exclusive offers and at least 2 free monthly games. PS Plus Extra then adds a catalogue of PS4 and PS5 games into the mix, while PS Plus Deluxe and Premium (depending on your region) adds older PS2, PS1 and PSP game emulation, and game streaming for PS3 and other titles.
Source: Sony