Hideo Kojima seems to be treating Death Stranding as a movie as he has a huge promotional tour in progress with an upcoming talk at BAFTA and a meet a greet session on November 2nd. He will probably turn up on the Graham Norton Show at this rate.
Anyway, a Death Stranding experience will be opening at Stables Market in Camden, London, and you can visit  on November 2nd, 3rd, 8th, 9th & 10th. Kojima will be there in person on Saturday November 2nd, 11.30am to 1.30pm. You can also pick up exclusive merchandise and get an "insight in to the world of Death Stranding".
– ARTICLE CONTINUES BELOW –
There does not appear to be a way to book a place in advance so turning up early might be a good idea.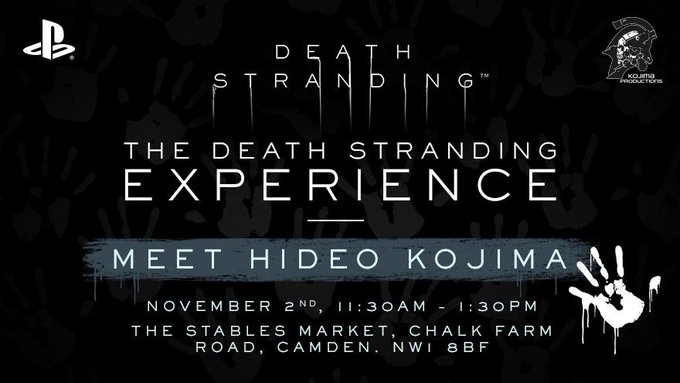 Our spoiler free review of Death Stranding will be going live on the morning on November 1st, but while you wait why not check out our Death Stranding Hub for everything you need to know about the game.
Death Stranding tie-in album has been announced and has been given the name Timefall. The name comes from the mysterious rain that falls in the world of Death Stranding. The first track has been released and it is called Death Stranding by CHRVCHES. You can listen to the full song below.
The full Timefall track list is as follows:
Trigger – Major Lazer x Khalid
Ghost – Au/Ra x Alan Walker
Death Stranding – CHVRCHES
YELLOW BOX – The Neighbourhood
Meanwhile… In Genova – The S.L.P.
Ludens – Bring Me the Horizon
Born in The Slumber – Flora Cash
Sing to Me – MISSIO
The digital album is part of the Death Stranding Collector's and Special editions. Death Stranding recently went gold and it was also confirmed the online portion of the game would not require PlayStation Plus. If you fancy getting a brand new PS4 then you could opt for the Death Stranding console which comes with a transparent yellow DualShock 4. In other news, the Death Stranding BB will communicate with the player through the controller speaker.
Death Stranding will be released exclusively on PlayStation 4 on November 8th along with the Timefall album.
Source: Twitter