A new Hungarian TV trailer for the upcoming Sonic the Hedgehog movie has revealed yet another new look for the Sega mascot. Presenting… Fluffy Sonic!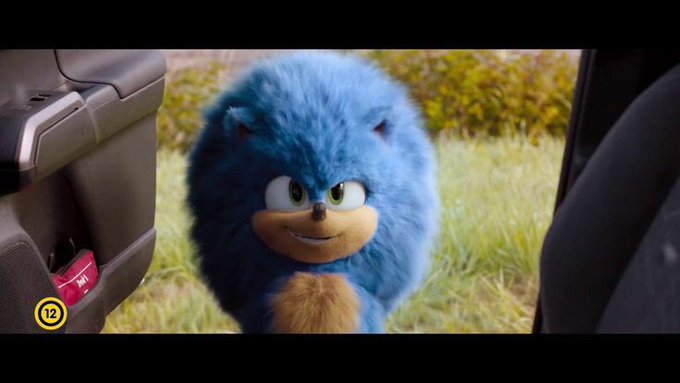 – ARTICLE CONTINUES BELOW –
Dawww! What a cute little floof he is!
The official song from the movie has also been released.
#SpeedMeUp from #SonicMovie, with @WizKhalifa, @TyDollaSign, @LilYachty, and @SuecoTheChild, is out now! Stream the full song now (https://t.co/2WsH170RnH) and get tickets for Sonic The Hedgehog, in theatres February 14: https://t.co/hKdWx0dc7J pic.twitter.com/I0zBvCYUTK

— Sonic The Hedgehog (@SonicMovie) January 24, 2020
The Fluffy Sonic reveal follows yet another version of the character that will be seen in the movie, Baby Sonic. He joins the ranks of Baby Yoda and Baby Groot as part of a growing trend known as "things that we can turn in to Funko Pops that will sell by the bucketload."
Baby Sonic can be seen in a Japanese trailer which all CGI and shows the dinky hog running around his magical world before presenting a flower.
Sonic the Hedgehog will be hitting cinema screens on 14th February 2020, the movie was delayed by three months when initial reaction to design of Sonic was less than complimentary. He was wearing socks, he had disturbing teeth, and just looked all kinds of wrong. The fan reaction was widespread and highly critical, and even Sega had concerns.
Thank you for the support. And the criticism. The message is loud and clear… you aren't happy with the design & you want changes. It's going to happen. Everyone at Paramount & Sega are fully committed to making this character the BEST he can be… #sonicmovie #gottafixfast 🔧✌️

— Jeff Fowler (@fowltown) May 2, 2019
Unfortunately the visual effects company Moving Picture Company which worked on the redesign shut down it's Vancouver branch shortly after completing the work stating that "increasing external market pressures" in Vancouver along with "attractive opportunities in other locations" made the branch less profitable.
The film was originally going to be produced by Sony by they sold the rights to Paramount. It stars James Marsden as Tom Wachowski, a former SFPD officer who has moved to Green Hills, Motana, who encounters the blue speedster, who is voiced by Ben Schwartz. Jim Carrey will be playing the villain Dr Ivo Robotnic and seems to be giving it full 1990's Jim Carrey, which could be good. The cast also includes Tika Sumpter as Dr. Annie Wachowski, Neal McDonough as Major Bennington, and Adam Pally.
The movie will open against a bunch of romantic comedies as it launches on Valentines day and also remake of Fantasy Island, the 70s TV show that has been rebooted in to a horror movie.
Source: Twitter