Call of Duty: Mobile has been updated and the ninth season, titled Conquest, has begun. It includes "a major weapon update with the new Gunsmith feature, a new weapon class – marksman rifles, the Shipment 1944 map, a new perk, new lethal equipment, an updated Battle Royale map, and much more."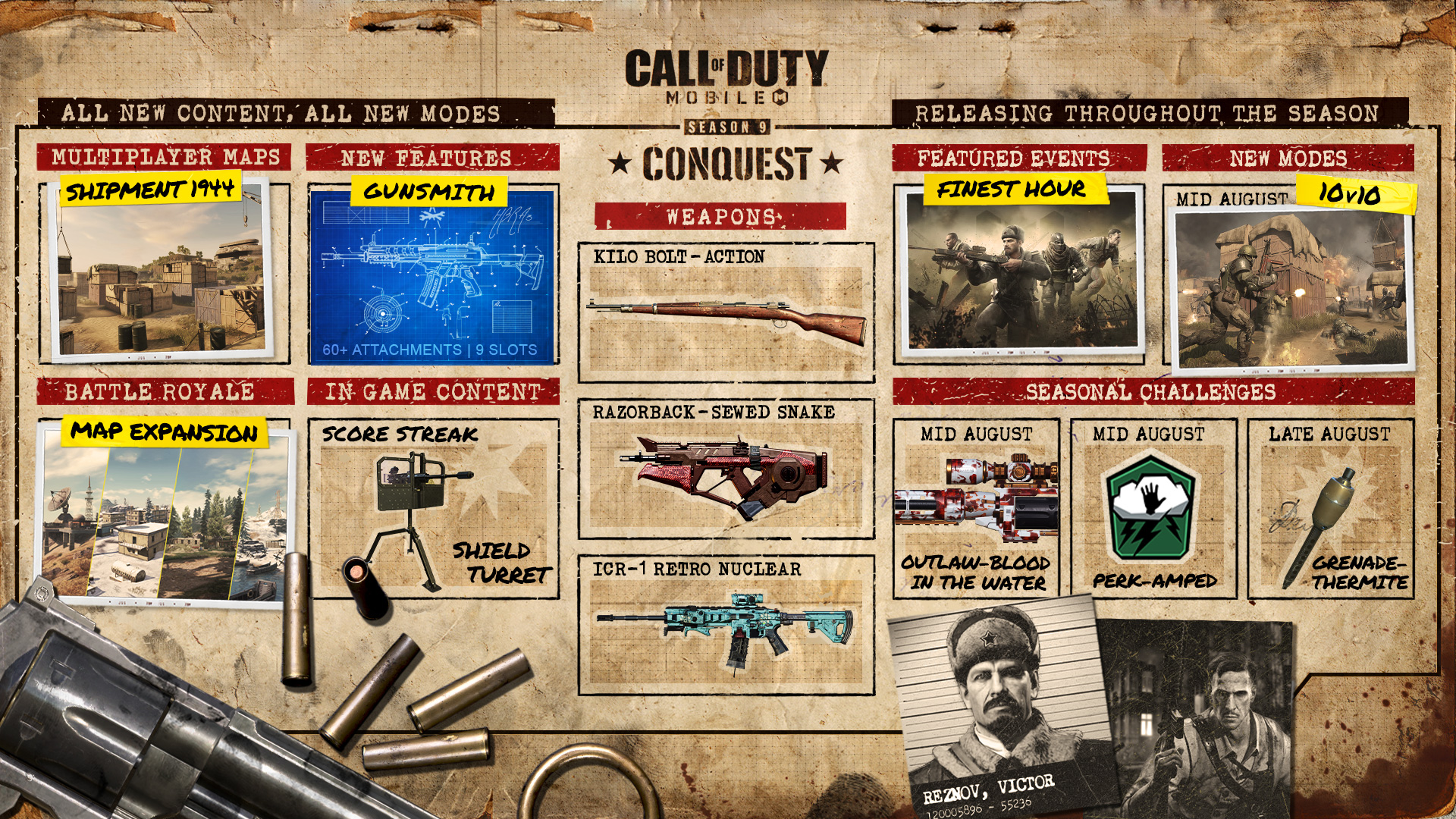 There is of course, a battlepass, with free tiers plus extra goodies if you spend some cash.
At Tier 14, all players will unlock the new Shield Turret Scorestreak — hunker down with it in a high traffic lane and blast enemies from behind its built-in cover. Reach Tier 21 to obtain the Kilo Bolt-Action, a new functional weapon with excellent mobility and one-shot kill potential. Other free tier highlights include the rare RUS-79U – Obstacle (Tier 36) and BY15– Obstacle (Tier 41), plus the Toy Soldier weapon charm at Tier 46.

Purchase the Premium Pass to potentially unlock all of the content available in the Conquest stream. Start the Season strong with series-favorite Victor Reznov unlocked right at Tier 1, followed by the notorious Richtofen at Tier 12. Earn epic weapon skins like the QQ9 – Trendsetter at Tier 40 and the Kilo Bolt-Action – Lazarus at Tier 50. Also unlocked at Tier 50, an awesome new skin Nikto-Stronghold and a the legendary calling card – Take Cover will prove your dedication to the fight.
The updated also includes Gunsmith, a new feature that allows you to mix and match between 50 new attachments, 20 new reticles, and 60 weapon levels across all existing weapons. It also includes charms, because headshotting death machines are well known for also liking fluffy bunny figurines hanging from the barrel of their sniper rifle, and stickers.
Seasonal challengers include the new Amped perk which improves your weapon swap speed and rocket launcher reload speed, and later on the season you can unlock Thermite which sticks to surfaces upon impact and burns violently for several seconds, inflicting periodic damage to enemies in the immediate area.
The new map is Shipment 1944, and the Battle Royale map expands again with four new areas to explore: Outpost, Dormitory, Radar Base, and Campground.
Source: Activision