If you are unhappy with the standard what PlayStation 5 then you may like consider this snazzy gold PS5. The custom design has been created by Caviar, an "international brand of exclusive designer smartphones and accessories handcrafted from luxury materials."
The gold PS5 is actually that, the side plates are made from solid 18k yellow gold embossed with a "dynamic, ornate pattern that creates an amazing play of light and shadow." The console also comes with a custom stand made from ebony and the DualSense has also been swathed in bling. The controller has a patterned leather grip and 18K gold joysticks that are embellished with the Caviar brand logo.
– ARTICLE CONTINUES BELOW –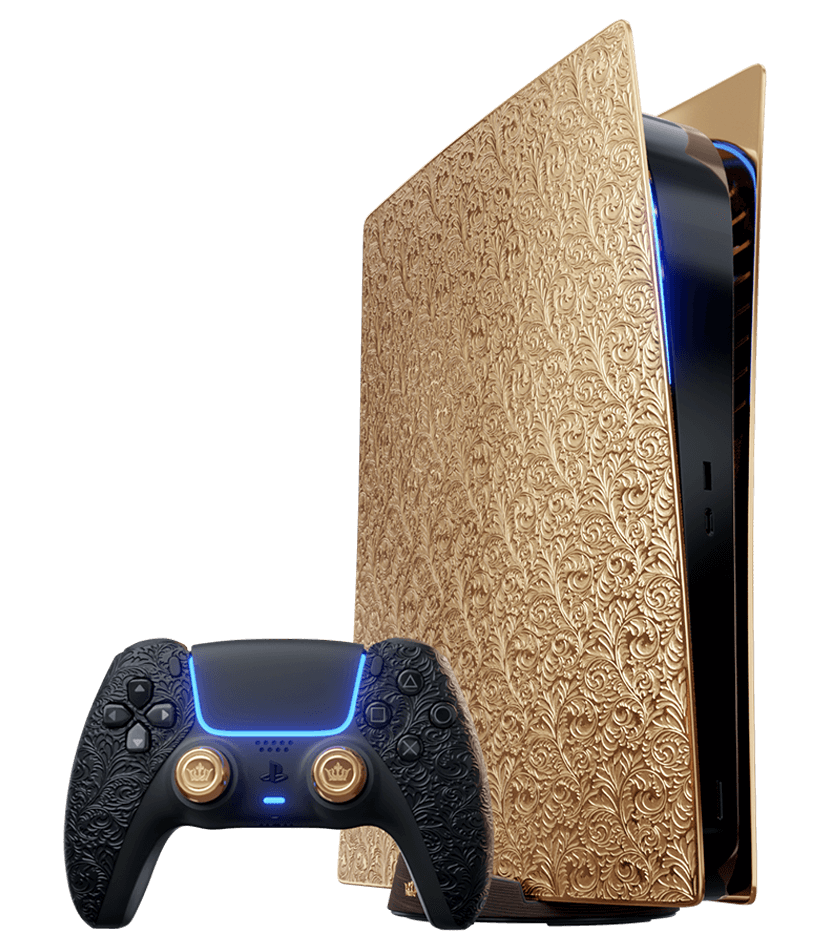 Only five the designs will be released and they are a bargain at $352,770, roughly £259,535.
Normally at this point I would get my snark on as these 'more money than sense' products usually look horrendous but this one is not too bad. The texture gold is garish but certainly looks different and expensive. The DualSense is even better, get rid of those nasty gold sticks and I would totally buy the textured leather controller.
While you are shopping for your solid gold PS5 you may also like to pick up solid gold iPhone 13 or perhaps the Poisoned Blade Samsung Z Fold 2. That device is only $8,140 and features "multi-layer material based on epoxy resin and fiberglass used in the manufacture of edged weapons, with a decorative panel, decorated with embossed geometric engraving and a red python leather insert."
The PlayStation 5 has been designed so the panels can be removed and swapped out but so far Sony have not released any official products to allow you to customise your console. When the PS5 launched third parties stepped in to create their own and were quickly shut down by Sony but now you can buy them from almost anywhere, Amazon have loads of options.
PlayStation 5 Guides and more from TheSixthAxis
Source: Caviar