September isn't that cold. Despite this, Nintendo have decided that it's a good idea to include a scarf in the European limited edition of Hyrule Warriors. It's a replica of Link's scarf from the game, with a snazzy red trim and the Hylian Crest.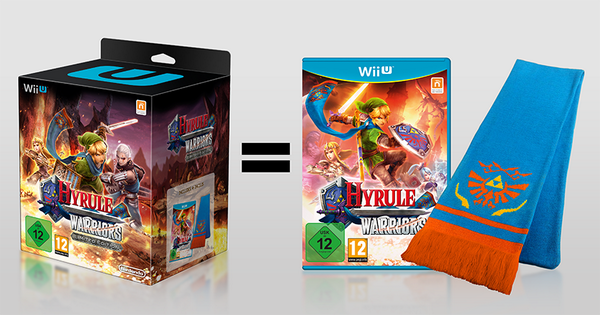 – ARTICLE CONTINUES BELOW –
There's also going to be a number of new costumes for both Link and Zelda, including their designs from Ocarina of Time, Twilight Princess and Skyward Sword. No Wind Waker designs, then, but that might clash with the game's aesthetic.
New playable characters announced come in the form of the series' villains – there's Ganondorf, with a mane which makes him look very much like Demise; Zant, the villain from Twilight Princess; and Ghirahim, who you might recognise as the antagonist of Skyward Sword.
There's plenty of more details, including intriguing weapons such as the Chain Chomp of Mario fame, available to watch in the full 26 minute long Nintendo Direct presentation below. They also detail Adventure Mode, which puts a twist on the game, with a top-down NES style presentation.
Hyrule Warriors will release on September 19th in the UK for Wii U, you can read some of our thoughts on the game here.