H1Z1: Battle Royale was updated last night and, hurrah, they've added something new to do. A scavenger hunt is now in progress, collect fifty skulls while playing to unlock three Silver Victory Crates. You can also look out for the Skull of the King, collect that and manage to survive until the very end of the game to get elusive Scavenger Skull Helmet.
The Scavenger Hint will run until Tuesday  July 10th and your progress is continuous, so you can build up your collection of skulls over multiple games. Here's the rest of the patch notes:
– ARTICLE CONTINUES BELOW –
UPDATES & BUG FIXES
Quick-throwing a grenade now properly interrupts shotgun reloads.
Players are now awarded kill credit when damaging a player who then dies from falling damage.
Revive timer now properly shows when beginning a revive right after healing.
Reviving is now canceled if the player being revived crawls too far away from the reviver.
Players will no longer go into a downed state if they die without any teammates still alive.
Camera no longer transitions to first-person when downed while aiming down sights.
Airstrike Signal is no longer missing tier info in the item pickup UI.
Airstrike Signal can now be picked up when all throwable slots are occupied.
Weapons now appear with their correct skins when dropped from opposing players.
NEW ITEMS – FREEDOM BUNDLES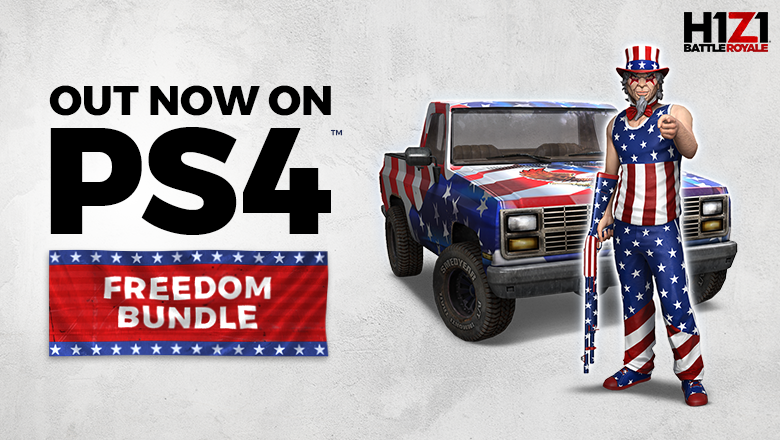 Soar on eagles' wings with the NEW Freedom Bundles, available for a limited time from the in-game Store! Featuring a highly-patriotic full outfit, weapon, and vehicle skin, we want YOU to look your best when you parachute in for the win.
Purchasing any of these Bundles grants you a Crate that guarantees you ALL the items inside. Once you grab these Bundles from the Store, head to your Customize section to open them up and equip everything inside!
Source: H1Z1