The European servers for H1z1 will be going offline at 11pm GMT tonight, Thursday June 14th, to roll out a new patch and to drop some lovely cosmetic items in to the inboxes of those who have been playing for a while.
UPDATE: It appears the European servers are somewhat borked due to a hardware failure, matchmaking doesn't seem to be working so probably best to find something else to play tonight.
– ARTICLE CONTINUES BELOW –
Here are the notes:
BUG FIXES
Players no longer occasionally spawn and parachute into the extreme edges of the map.
Tapping the L1 button now always correctly quick-switches weapons.
Players will no longer occasionally be prevented from crouching after exiting a vehicle.
Bullets from the M40, CNQ, and MK46 now correctly hit enemies through windows.
Fixed a couple of issues where loot could fall inside of walls or through the floors of military tents.
Fixed a specific client crash caused by a memory leak.
Addressed one connection issue where players might get stuck trying to enter a match.
Fixed Kill Feed issues for ignited vehicles, dying to the gas, and falling to your death.
Cleaned up the Scout Rifle reload animation when aiming down sights.
When a player is killed in a vehicle, their loot bag will eject in a direction based on what seat they were in.
Players can now drop Other Ammo without needing to highlight a weapon slot.
Bleeding screen effect no longer persists across games after logging out while bleeding.
Vehicle HUD no longer incorrectly displays that the vehicle is under EMP effect after the effect has expired.
Correct buttons are now displayed when opening the radial menu (weapon or grenade wheel) immediately after exiting a vehicle passenger seat.
When pressing R1 to enter throwing stance, the throwable name will no longer display in the HUD.
Touchpad is now properly identified as "World Map" in Settings.
Beige Suit Jackets no longer drop in player loot bags.
Fixed several minor text bugs in the UI.
UPDATES
All players from any region who made any PlayStation Store purchase and logged in prior to 4PM PDT/11PM GMT on Thursday, June 14 will receive the Green Dawn Riot Shotgun granted directly to their account as our way of saying "thank you!"
Players who complete the email opt-in form will now receive 2 Victory Crates once they've confirmed their email address. Players who provided and confirmed their email address previously (before this update) will automatically receive 2 Victory Crates as part of this update.
A "Message of the Day" window has been added to the main menu to let players know about events and sales.
NEW ITEMS – BEAST BUNDLES!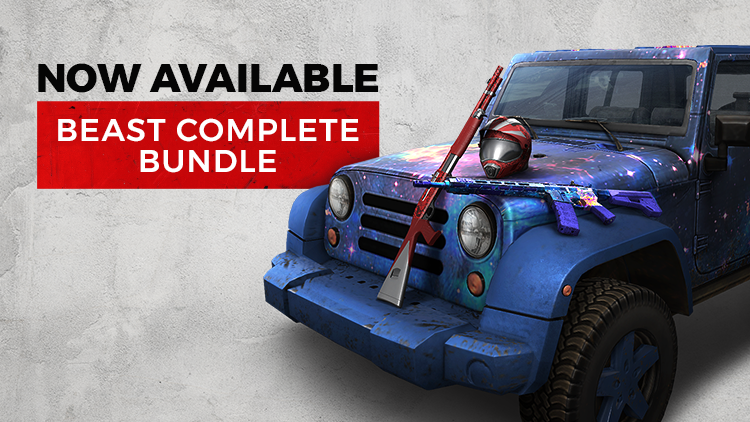 Get your paws (or claws) on the 3 new bundles available for purchase in-game – the Red Dragon Pack, the Neko-chan Pack, and the all-inclusive Beast Complete Bundle! Featuring two new weapon skins, an Offroader skin, and a helmet, these items are purrfect for showing off your wild style. Purchasing any of these Bundles grants you a Crate that guarantees you ALL the items inside.
Source: H1Z1