Star Wars Battlefront II is still being played by quite a few people and there is more content on the way, as detailed in the new roadmap from EA.
Prequel villain General Grievous will be arriving this month followed by Obi-Wan Kenobi arriving in Novemeber, Count Dooku in January, and February brings Anakin Skywalker and a new "large-scale, non-linear game mode featuring capture points and capital ship takedowns."
December has no update because Santa forces everyone at DICE to pack his sleigh rather than make games.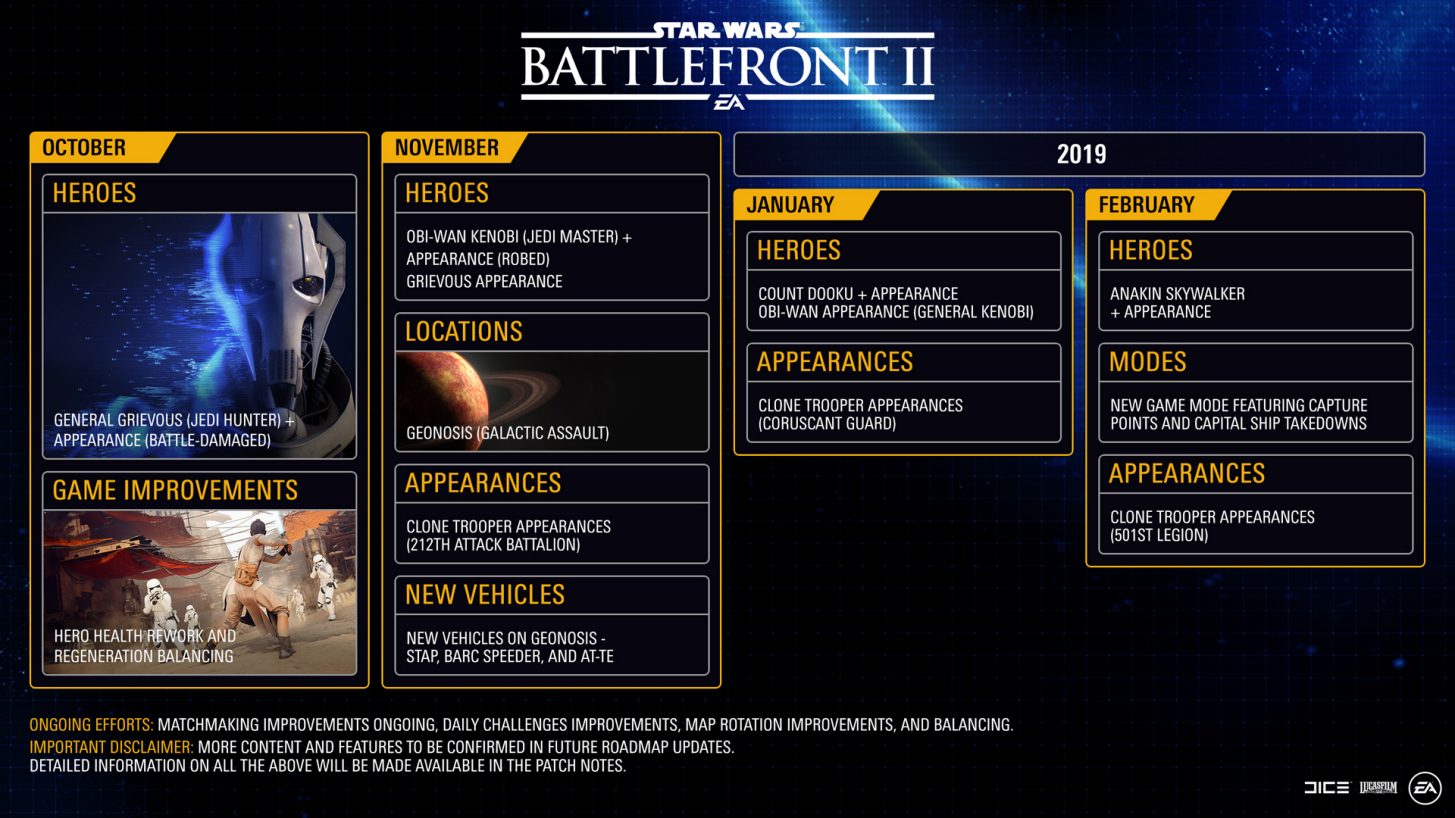 Here's the full text from EA which has more asterisks than a a very aterisky-y thing indeed.
October – Hero Appearances, N1 Starfighter, and Hero Health Star Cards

For October, we're revealing that General Grievous*** will don the Jedi Hunter Appearance by default. At Grievous' release, the additional Battle-Damaged Appearance* will be unlockable with Credits or Crystals.

The fan-favorite N1 Starfighter, a sleek example of Nabooian design and engineering philosophy, will now take to the skies as a fighter class ship in the Hero Starfighters game mode.

Also coming this month are changes to Hero Health Star Cards, giving every hero the ability to equip one of these. Read the Community Transmission solely dedicated to this topic, to learn all about how it affects heroes' abilities.

November – More Hero Appearances and a Small Update on Geonosis

In November, Obi-Wan Kenobi*** is entering the battlefront, and he's wearing his Jedi Master Appearance from the get-go. At the same time, Obi-Wan's Robed Appearance** and another to-be-announced Appearance** for General Grievous are approaching.

Here's a neat little tidbit about November's release of Geonosis: this new location will feature the native Geonosians as part of its living world (non-interactive environment). The Geonosians played an important role in the Clone Wars colluding with the Separatists, led by Count Dooku, to develop plans for the first Death Star.

December – No Game Updates

December will see no new game updates, as we're preparing the Clone Wars content releasing in early 2019 – including a new large-scale, non-linear game mode.

January – Count Dooku, the Coruscant Guard, and Even More Hero Appearances

Then, to kick off the new year, January will see the release of Count Dooku*** plus an additional Appearance** for the Separatist leader. Obi-Wan is expanding his wardrobe even further with the General Kenobi Appearance**, and the Coruscant Guard clone trooper Appearances** are joining the forces of the Galactic Republic.

February – Anakin Skywalker and New Large-Scale, Non-Linear Mode

Anakin Skywalker***, an additional Appearance** for the same, and the 501st Legion clone trooper Appearances** arrive to the game in February. You'll be able to play with them in our new, large-scale, non-linear game mode featuring capture points and capital ship takedowns.

Please note that more content and features are still to be confirmed. Things might also be moved around, added, or changed. Efforts such as improvements on matchmaking, daily challenges, map rotation, bug fixing, and balancing are ongoing, too. We'll be back at a later date with an updated view of the Roadmap.

Join the discussion on the official forums. Also, make sure to keep your eyes on this space and EA Star Wars™ on Twitter, Facebook, and Instagram for more Star Wars Battlefront II related news.

Sign up today to receive the latest Star Wars Battlefront II news, updates, behind-the-scenes content, exclusive offers, and more (including other EA news, products, events, and promotions) by email.

*All updates require Star WarsTM BattlefrontTM II on applicable platform (sold separately), all game updates, internet connection, EA account, and, for console players, Xbox Live Gold or PlayStation Plus membership (each sold separately).
**Appearances available for Credits earned in-game or Crystals
***New heroes are available for Credits earned in-game
Source: EA