I do not think a trailer for a PlayStation game has ever started with the words "I think I'm pregnant" but it had to happen at some point. Conception PLUS: Maidens of the Twelve Stars is heading to our shores to bring consensual, sparkly, baby-making love with some very young ladies, one of which is a nun.
You play as the saviour from another world known as "God's Gift" – yes, really – and you must save the magical kingdom of Granvania from evil impurities, so things like Peanut Butter and Nigel Farrage. To do this you must, well, have sexy stuff, with the twelve Star Maidens and create the Star Children, the only ones who can save the world.
– ARTICLE CONTINUES BELOW –
Please note that the trailer features some mild sauciness as it shows a Star Maiden in glowing silhouette writhing about, including some freely hanging boobs, and a bit of snogging. Also for our younger viewers please note this NOT how babies are made. Ask your Dad or something, please don't get your sex education from a video game.
Along with the nun the other Star Maidens include o a sexy nurse and a caretaker who, rather than wearing overalls and a hi-viz jacket, prefers a cloak, the skimpiest of panties and not much else. She will catch a cold like that. There's also a sort of panda/raccoon/fox fairy thing that is in kinky handcuffs because reasons.
The PlayStation 4 exclusive Day One Edition includes a mini-calendar featuring all 13 Star Maidens in their skimpy outfits. There's also a NISA-exclusive Limited Edition that includes a beach towel, a 2-disc soundtrack, art cards, and an art book. Yes, beach towel, this is a game featuring shenanigans with a sexy nun, a beach towel makes just as much sense that the handcuffed panda/raccoon/fox thing.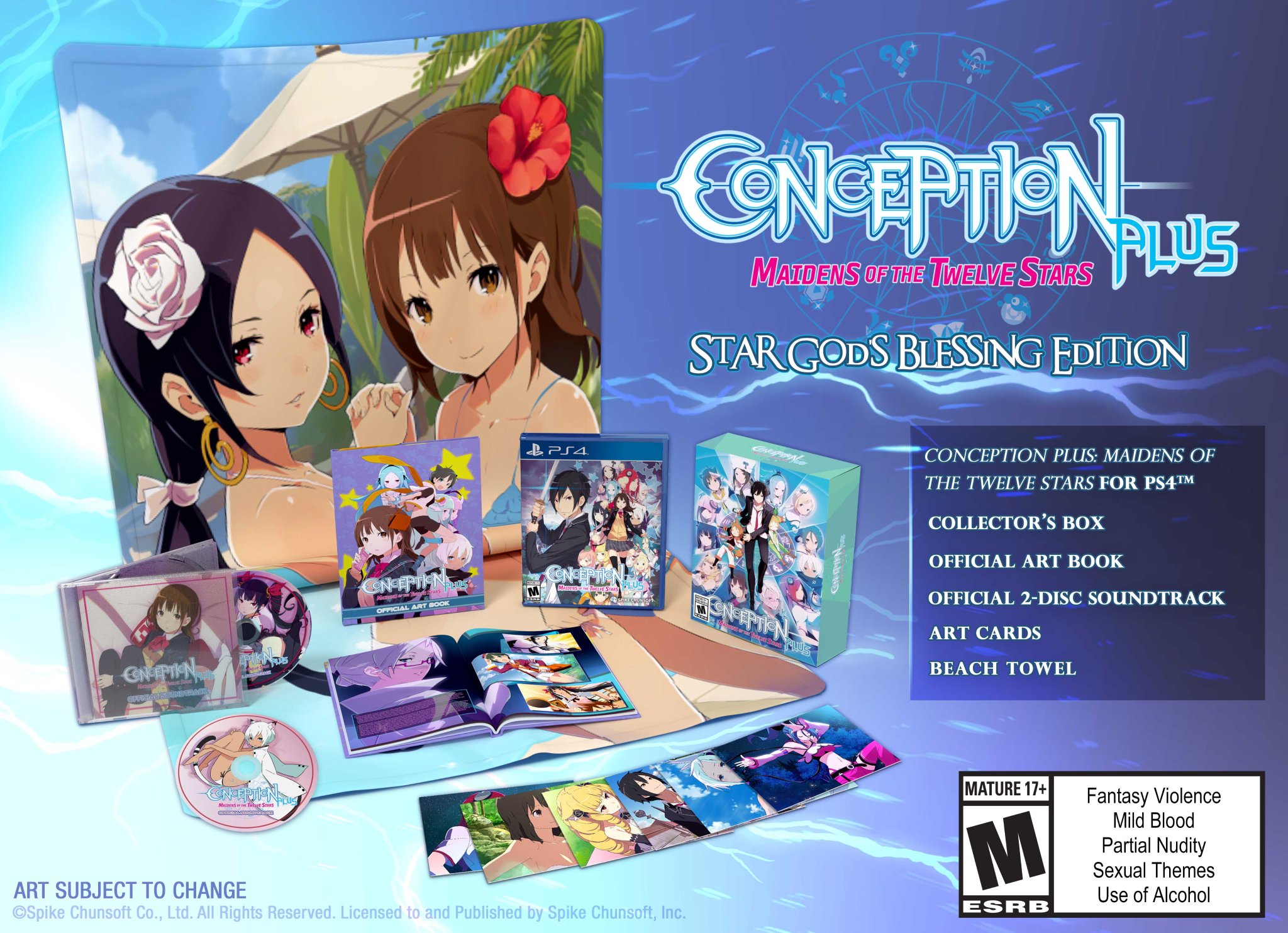 Conception Plus: Maidens of the Twelve Star will land on PlayStation 4 and PC via Steam on November 5th in North American and November 8th in Europe.
Source: YouTube