Urgent news for those in England who have an instore pre-ordered an Xbox Series X|S or PlayStation 5 from GAME. You must visit the store you ordered the console from by close of business on Wednesday, before England goes in to lockdown, and pay for your console else you will not be able to pick it up on launch day.
GAME will also be sending out emails over the next few days with important updates, so keep an eye on your email.
– ARTICLE CONTINUES BELOW –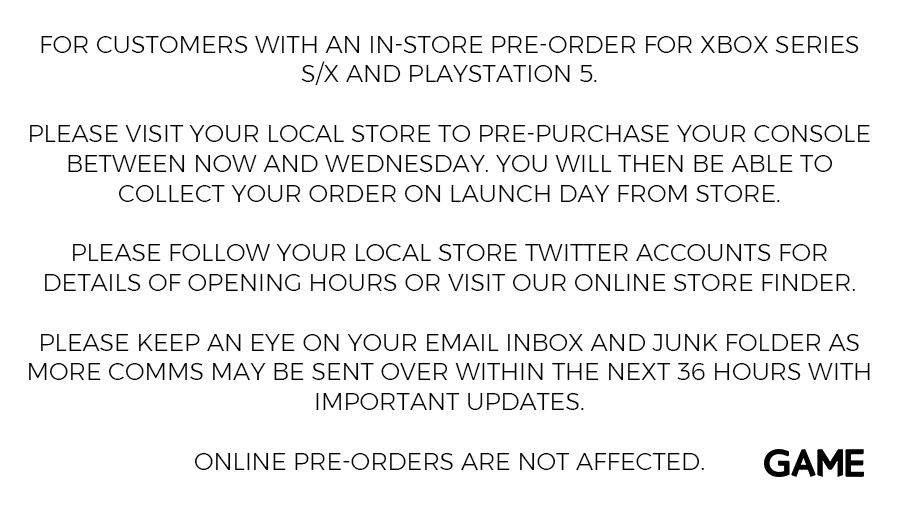 It does seem that if you don't get to the store and pay you will not get your console.
Hi, you will be able to pre purchase your console before Wednesday night and collect on the release date. – DC

— GAME Helps (@GAMEHelps) November 3, 2020
Scottish and Northern Irish customers have until the day before launch day to pay for their PS5 consoles, we have yet to see advice for Welsh customers.
English retailers Smyths and Argos have confirmed that instore pre-orders will be available via click and collect on launch day and the Government has also confirmed that non essentially retail can still run click and collect when Lockdown 2: Electric Boogaloo kicks off in England on Thursday.
Food shops, supermarkets, garden centres and certain other retailers providing essential goods and services can remain open. Essential retail should follow COVID-secure guidelines to protect customers, visitors and workers.

Non-essential retail can remain open for delivery to customers and click-and-collect.
You can check out out two next gen console unboxing videos below.
It has also been revealed that PS5 versions of current PS4 games will not support PlayStation VR, a blow for anyone hoping for upgrades to existing PlayStation VR games in their new console.
A Sony representative said "We have not announced PS5 titles for PS VR," who also indicated that Hitman 3's VR mode would only be playable via the PS4 version of the game. That mode will have to be played via backward compatibility on PS5, and will mean that even if you take advantage of the free PS5 upgrade, you'll need to keep the PS4 version installed as well for VR. You'll obviously also want the PS5 version installed to get the fancier graphics when playing on your standard TV.
Source: Twitter